Headline for red strip on home page:

Robert Earl Keen and his band release a new album April 14 th . Titled Western Chill, the box set includes a song book, performance video and a graphic novel. The performance video covers the entire album. The graphic novel has 92 pages and is in color. Although REK has retired form touring, he reminds us that he's still hard at work: "Quitting the road doesn't mean I'm dead, and it doesn't mean I'm going to quit producing stuff."

Keen has done a great deal for the music industry in Texas and the State House of Representatives honored him on March 23 for that work. Texas House Resolution HR 102 noted that he is a Houston native who first picked up a guitar when he as at Texas A&M. The Resolution also congratulated him on his retirement from touring.

Keen's wife Kathleen, daughter Clara and Porter Garner, CEO & President of the Former Students Association of A&M, and Dr. Tyler Cooper of Dallas, were with Robert Earl when the Resolution was presented.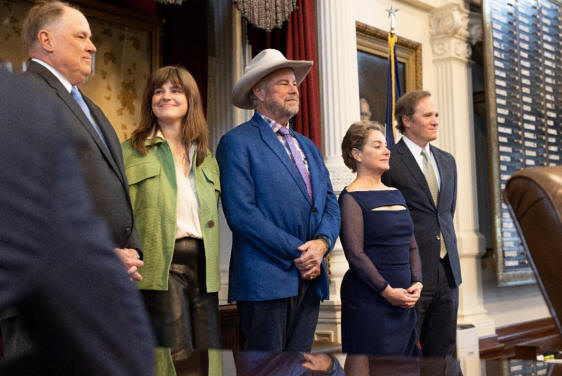 L to R: Porter Garner, Clara Keen, REK, Kathleen Keen, Dr. Tyler Cooper

You can watch Keen and the band on You Tube at Western Chill (Album Video) And pre-order directly from https://www.robertearlkeen.com/westernchill