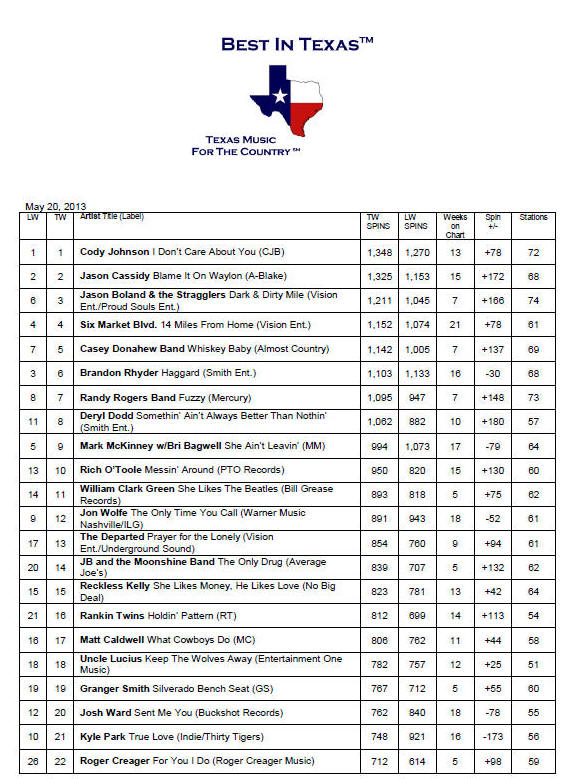 ---
Great answers when Katie Key asked Jason Boland 10 fascinating questions in 2005!
10 Questions with Jason Boland
What's your favorite sports team?
There weren't any professional teams in Oklahoma growing up and all I had on cable was WGN and Ted Turner channels. Since I wasn't a fan of the Braves, I ended up being a Chicago Cubs fan.
What one thing do you travel with to remind you of Texas?
Messina Hof wine, try the Gewurztraminer
What song do you wish you'd written?
"I Saw The Light" by Hank Williams. He could say extraordinary things very simply.
What was your first car?
A bitchin' 85 Trans Am, stock stereo and a 305 under the hood.
What do you do when there's nothing to do?
Nothing.
Who has the best BBQ in Texas?
Cooper's in Llano, thanks to Dub Miller.
What's the strangest thing we'd find in your car?
Judas Priest's Greatest Hits. Turn it up!
What's your favorite sound?
Steel guitar on vinyl.
Which artist would you want to play with (living or dead)? What would you play?
Gram Parsons and we'd sing "Hickory Wind."
If heaven exists, what would you like to hear God say to you when you arrive at the Pearly Gates?
"Hell yes, Heaven exists! Did you bring a capo?"
---