It wouldn't be summer without the "Hold My Beer and Watch This Tour," an event created by Randy Rogers and Wade Bowen.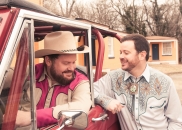 photo credit: Jim Mcguire
They kick off the 11th annual tour July 24, 2018, in Tyler, Texas. Bona fide, twang-filled music and a tradition of uncensored, comedic banter make this a "don't miss" event. They'll play music from each artists' catalogue. This year's event runs into August, including a stop at the iconic Floore's Country Store.
"Hold My Beer and Watch This" show dates:
July 24 - Cowboy's - Tyler
July 25 - The Backyard Bar & Grill - Waco
July 26 - Floore's Country Store - Helotes
July 27 - La Hacienda Event Center - Midland
July 28 - Jake Jam - Oklahoma City
August 1 - Hurricane Harry's - College Station
August 2 - Brewster Street - Corpus Christi
2015
For tickets and more information, visit randyandwade.com/tour
---