Rodney Crowell - Another Big Award!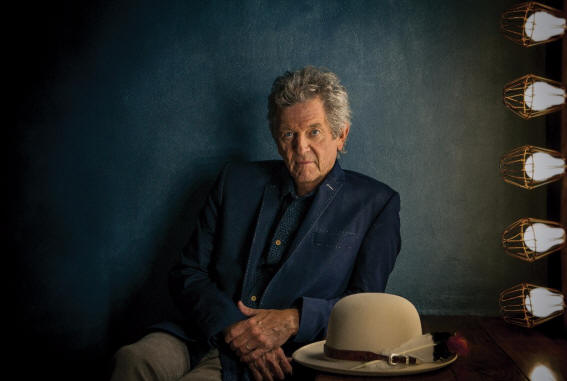 Multi-Grammy Award winning singer-songwriter Rodney Crowell will be honored by the American Society of Composers, Authors, and Publishers with its prestigious Founders Award at the 55th annual ASCAP Country Music Awards November 6, 2017. The Founders Award is one of ASCAP's highest honors and is presented to songwriters and composers who have made pioneering contributions to music by inspiring and influencing their fellow music creators. Previous recipients include George Strait, Alan Jackson, Jackson Browne, Emmylou Harris, Garth Brooks, Bob Dylan, Tom Petty, and Neil Young.
Crowell's new album Close Ties, released March 31st of this year, has gained critical acclaim: NPR Music stated, "There's no doubt that Crowell was an architect of Americana as we know it, and with Close Ties, we're fortunate to have a look at his blueprints." The Wall Street Journal raved, "[Close Ties] proves energizing, engaging and often fascinating"; the Associated Press added, "...the set ranks among his best."
During his long and successful career, Crowell has written or recorded fifteen songs that reached #1 on the country music charts, with cuts by country legends Johnny Cash, Waylon Jennings, Willie Nelson, and George Strait. Other current country chart-toppers by Crowell have been recorded by Tim McGraw and Keith Urban. Blues icon Etta James and rock and roll legends Van Morrison and Bob Seger have sung hits by him.
Crowell has won six Americana Music Awards, including the Lifetime Achievement Award for Songwriting in 2009 as well as Song of the Year in 2017 for Close Ties' single "It Ain't Over Yet," a vocal collaboration between Crowell, Rosanne Cash, and John Paul White.
---
Josh Abbott, 2012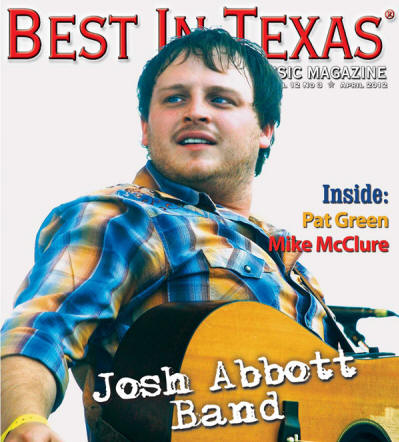 10 Questions with Josh Abbott, 2012
~by Katie Key
Josh Abbott has a #1 song on TracTion Texas, "Texas Women, Tennessee Whiskey." A good time to revisit questions Katie asked Josh in 2012.
KK: When people categorize your music, what's the one word you don't want to hear them use?
Josh: "Booooo."
KK: Where do you turn for your inspiration?
Josh: My wife! Whether it's an idea for a song based on our history or if I just need a friend.
KK: How many rings before you answer the phone?
Josh: I hardly answer the phone because I hate ringers and ALMOST ALWAYS leave my phone on silent. I figure I can just call back when I see the missed call.
KK: What do you value most in your friends?
Josh: Privacy
KK: Who would you like to play music with, any artist living or dead, and what song would you play with them?
Josh: I still somehow haven't gotten to play with, much less even meet, Willie Nelson. So I'd sing "On The Road Again" with him as happy as can be for my late grandpa.
KK: What are you reading right now?
Josh: "American Sniper" by Chris Kyle. He's our country's most decorated sniper EVER, and he's a Texan too.
KK: What three CDs are you currently listening to?
Josh: Honestly, I mostly listen to just random songs by all my Texas buddies…but as far as new releases go: "The Given" by Wade Bowen, "Goodbye Normal Street" by Turnpike Troubadours, & "Uncaged" by Zac Brown Band
KK: If you won the lottery, what is the first thing you would buy?
Josh: A 3,000+ acre high fence ranch somewhere in the hill country…but a new house for my brother in Houston would be high on the list, too….wait, I answered that wrong: I meant whatever my wife wants me to buy :) hahaha
KK: What is the one question you hate having to answer over and over in interviews?
Josh: "So tell us how you got started." Read my bio if you want that kind of info you lazy mofo.
KK: If heaven exists, what would you like to hear God say when you arrive at the Pearly Gates?
Josh: "Boy, you just barely got in didn't you?! Well, your grandparents are over there and the brother you never got to know is waiting by the lake."
---
Caleb Keller Thinks After Vegas Shooting
http://www.rollingstone.com/country/news/josh-abbott-band-member-rethinks-second-amendment-post-vegas-w506601
---
Randy Rogers Band's lonesome new video
"Meet Me Tonight" from Nothing Shines Like Neon
Randy and the band continue to work to help good causes, including help for Houston recovery. Proceeds from Randy Rogers' annual Golf Jam, Monday, September 18, will go to the Health Alliance for Austin Musicians (HAAM) and MusiCares Hurricane Relief efforts. The band's Friday, November 10 show at the Nutty Brown Ampitheatre in Austin will assist recovery initiatives in Houston and surrounding areas.
---
You Can Help Texas Recover
Galveston County Food Bank
http://www.galvestoncountyfoodbank.org/
Corpus Christi Food Bank
Houston Food Bank
http://www.houstonfoodbank.org/donate/
Texas Diaper Bank
http://www.texasdiaperbank.org/
SPCA of Texas
https://www.spca.org/news_hurricane-harvey
Portlight is a local grassroots organization that provides disaster aid to the disabled specifically
http://www.portlight.org/home.html
The Coalition for the Homeless is an umbrella organization coordinating shelters and orgs across the city
https://www.homelesshouston.org/take-action/donate/
Southern Baptist Disaster Relief (SBDR)
https://www.namb.net/send-relief/disaster-relief
Samaritan's Purse disaster relief units are now pre-positioned in Texas as residents continue to struggle with rain, flooding, and destruction caused by Hurricane Harvey.
https://www.samaritanspurse.org/disaster/hurricane-harvey/#
Heart to Heart had a disaster response team and mobile medical unit deploying Friday morning from Kansas City to arrive in Texas ahead of the storm.
---