---
Cody Johnson: Big Dreams in a Small Town
By Pam Shane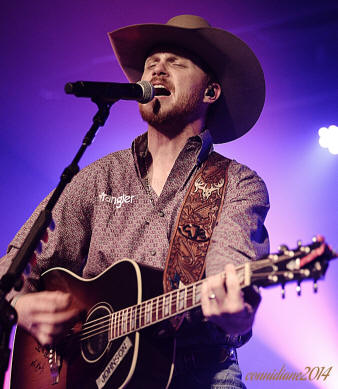 Cody Johnson, Hurricane Harry's, 2014
Cody Johnson was born in tiny Sebastopol, Texas.
The Cody Johnson Band is from small Texas towns, too: Lead guitarist Jeff Smith from Danbury; fiddler Jody Bartula from Iola; bass player Joey Pruski from Kosciusko; and drummer Miles Stone from Poth. Even using Google maps, it will take you five minutes or so to locate these towns.
What's the impact of growing up in a small town? "The effect on our music is about the work ethic," Cody answers. "When you're raised in a small town with a small high school class, you're easily spotted by your teachers and your peers."
How small? "My class graduated 28 people. They didn't cut us much slack. You have to work hard and do what they expect of you. The guys in my band approach it like a hayfield in the summer. They bust their humps to see that it's the best it can be."
Hard work is the name of the game. Cody's career includes bull riding, working in the prison system—his worst job, he says—and now leading a band that works non-stop.
What does Cody Johnson do that's easy? "I like to deer hunt," he says. "That's not really easy, either." Gun or bow? "Both. I am an equal opportunity hunter," he laughs.
Cody loved to rodeo and still misses it. He finally told himself, "No more bulls!" Why? "I wasn't the kind of guy like Chris LeDoux or Justin McBride who can do both. My hat's off to them."
He describes the rodeo life eloquently: "I miss the unique freedom of it. It's like the freedom I feel when I step on stage: Nobody can tell me how to do my job tonight." Rodeo is "waking up with the ache in your bones and heartache in your mind, and then going out to challenge yourself. That's the kind of stuff that drives my heart."
I asked Cody to tell me three things that define Sebastopol. Lake Livingston and Mama's house are on the list, yet Cody begins with Lawrence's Grocery Store and the story of how his character was formed.
"I used to walk to Lawrence's Grocery Store for a cream soda or an ice cream. I'd listen to all those older men: they'd sit around and spit Beechnut and talk about the farms and cows and crops and weather; bills they couldn't pay; government funding they couldn't get. It was a pretty good education.
"Mr. Hootie Lawrence gave me a job when I was in high school helping him work cows, baling hay, working on the tractor. He had a real impact on my life. You look back and remember conversations when you were 16 about baling hay and realize now that he was really telling me something. The last track on our new CD Cowboy Like Me is the old gospel hymn we sang at his funeral."
The new album debuts at MusicFest in Steamboat. Cody says that event has been the highlight of his year for several years. "I'm going to play in the big tent and do the Dean Dillon tribute, too, singing 'Is It Raining at Your House' by Vern Gosdin."
Cody's also looking forward to RodeoHouston. Their crowd grows every year. In 2014, they play the Barbeque stage as well as The Hideout.
The fiddle is prominent in Cody's songs and he told me he's always loved the sound of a fiddle sawing. "My Papaw said, when I was a kid, 'Bob Wills sure can sing and play that fiddle!' I had to tell him that's Tommy Duncan and Bob Wills!"
He feels that fiddler Jody Bartula and guitarist Jeff Smith help him find his sound. "When you hear us live, you hear a certain guitar and a certain fiddle. They're solid every night."
As close as Cody and the band members are, they did not play together on the last album or on Cowboy Like Me. "The guys in my band want me to find studio musicians who can play like them and who can also play things they can't play or wouldn't think of. Then they want to learn that!"
Cody and producer Trent Willmon agreed on the concept. Willmon put together his dream team of musicians who listened to live recordings of Cody's band and the special guitar and fiddle sounds. "When I took the record back to the band, they said, 'God Almighty, it sounds like us, but better!' I'm proud to say there's not a single song on my new album that my band can't play as good as the studio album because of teamwork and dedication."
The second single released from the album is "Dance Her Home," a romantic song written with Jesse Raub, Jr. Jesse told Cody he wanted a song "that's good for guys and good for girls." They pulled it off, fiddle and all. So I had to ask if Cody dances. He does: "I like a good old two step or a polka."
The future looks bright for Cody Johnson. In 2014, he believes fans will notice even greater quality in the music and the live show. He's proud that his supportive wife Brandi is back in school, as he promised her she would be, finishing her accounting degree.
Look for them somewhere in Texas, dancing a polka while the band plays a Cody Johnson song.
---
25 Years of Tracy!
Tracy Byrd, who had a big career filled with mainstream radio hits beginning in 1993 with his #1 single "Holdin' Heaven," now has 10 albums and 34 hits, including "I'm From the Country" and "Ten Rounds with Jose Cuervo."
To celebrate 25 years of great music, Byrd is ready to go on tour again both in and out of Texas. For some dates, he'll team up with fellow Texan Mark Chesnutt. The duo will bill themselves as the Beaumont Boys.
The tour is set through December. Here are the February dates:
FEB 02 - Buck Owens' Crystal Palace / Bakersfield, Calif.
FEB 04 - The Saddle Rack / Fremont, Calif.
FEB 05 - Harris Center For The Arts / Folsom, Calif.
FEB 06 - Gallo Center For The Arts / Modesto, Calif.
FEB 07 - Dell E. Webb Center For The Arts / Wickenburg, Ariz.
FEB 08 - Dell E. Webb Center For The Arts / Wickenburg, Ariz.
FEB 09 - The Liberty / Roswell, N.M.
FEB 15 - Private / Vidor, Texas
FEB 16 - Dosey Doe / The Woodlands, Texas
FEB 17 - Diamond Jacks Casino and Hotel / Bossier City, La.
FEB 21 - Liberty Hal / Tyler, Texas
FEB 22 - Hippodrome / Waco, Texas
FEB 23 - Arlington Music Hall / Arlington, Texas (Daytime Show)
FEB 23 - Matagorda Country Fair / Bay City, Texas (Nighttime Show)
To get all the news on Tracy Byrd, check out www.tracybyrdmusic.com