---
Summer Duets!
Bruce Robison and Kelly Willis release their fourth duets album on June 21, a nice treat for summer.
Titled Beautiful Lie, the new album will be released on Robison's The Next Waltz label. Great title for the album and the label.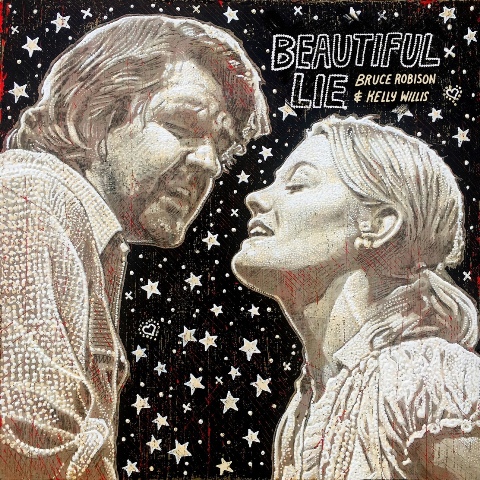 Robison produced the album at his all-analog studio in Lockhart – that's a plus for audio fans. The songs include originals, covers and some time travel vintage songs, including "Beautiful Lie," which appeared on the Amazing Rhythm Aces' 1975 debut album.
There are four songs written by Bruce Robison, including one co-written with Jack Ingram, "Astrodome."
The Next Waltz label launched in 2016 and includes a web series featuring interviews, videos and specially recorded songs.
The first single from the album is "Nobody's Perfect," which will be released Friday, May 10.
May 19, Robison and Willis kick off their summer tour in Round Top.
Bruce & Kelly's Beautiful Lie tour dates:
Sunday, May 19 –Theater Barn at Winedale, Round Top, Texas
Friday, May 24 –Coupland Dancehall, Coupland, Texas
Saturday, May 25 – Levitt Pavilion, Arlington, Texas
Thursday, June 13 – Cactus Café, Austin, Texas
Friday, June 14 – Heritage Park, Denison, Texas
Saturday, June 15 – Main Street Crossing, Tomball, Texas
Sunday, June 16 – Love & War in Texas, Plano, Texas
Saturday, June 22 – Continental Club, Austin (Beautiful Lie album release show)
Thursday, June 27 – Discovery Green, Houston, Texas
Friday, June 28 – Haltom Theater, Haltom City, Texas
Saturday, June 29 – Brauntex Theatre, New Braunfels, Texas
Friday, July 19 – Phil Hamilton on the Brazos Music & Float Fest,
Glen Rose, Texas
Saturday, July 20 – Tower Theatre, Oklahoma City, Oklahoma
Sunday, July 21 – Dan's Silverleaf, Denton, Texas
Thursday, July 25 – Songbirds Guitar Museum, Chattanooga, Tennessee
Friday, July 26 – Franklin Theatre, Franklin, Tennessee
Saturday, July 27 – The Foundry, Athens, Georgia
Monday, July 29 – Atwood's Tavern, Cambridge, Massachusetts
Tuesday, July 30 – Hill Country NYC, New York, New York
Wednesday, July 31 – The Locks at Sona, Philadelphia, Pennsylvania
Thursday, Aug. 1 – Rams Head On Stage, Annapolis, Maryland
Friday, Aug. 2 – The Birchmere, Alexandria, Virginia
Saturday, Aug. 3 – Goode Theatre, Norfolk, Virginia
Saturday, Aug. 10 – Broken Spoke, Austin, Texas
Friday Aug. 23 – The Kessler, Dallas, Texas
Saturday Aug. 24 – The Heights Theater, Houston, Texas
---