---
COMING TO TEXAS!
---
REK's Christmas Tradition
It wouldn't be Christmas in Texas without Robert Earl Keen and "family." This year's Cosmic Cowboy Tour offers comedy and music; Shinyribs joins the party.
The tour begins in OK City December 18 and ends in Fort Worth on the 29th. This is the seventh year for the event.
Tickets go on sale August 24 RobertEarlKeen.com
Robert Earl Keen's Cosmic Cowboy Christmas Tour:
Dec. 18 - Oklahoma City, OK (The Jones Assembly)*
Dec. 19 - Waco, TX (Waco Hippodrome Theatre)*
Dec. 20 - San Antonio, TX (Aztec Theatre)*
Dec. 21 - Houston, TX (House of Blues)*
Dec. 22 - Austin, TX (Moody Theater)*
Dec. 27 - Nashville, TN (Ryman Auditorium) **
Dec. 28 - Dallas, TX (House of Blues)*
Dec. 29 - Fort Worth, TX (Bass Performance Hall)*
*with Shinyribs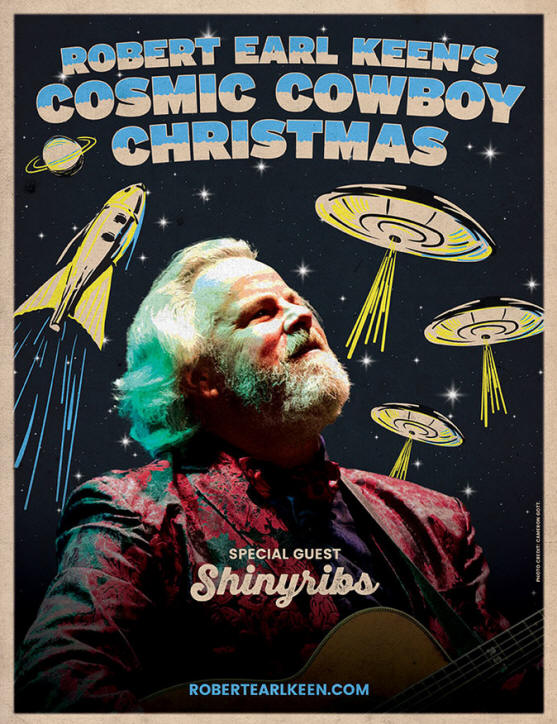 Swing Time
The people who work to save Texas Dance Halls are throwing a big party beginning November 1.
Fans of dancing and of Texas history can book the complete package or just one of the nights.
The first day, take dance lessons at Gruene Hall. Asleep At the Wheel provides the music. November 2nd features Quihi Dance Hall in Hondo and Johnny Bush.
Dale Watson and Brennen Leigh rock the Twin Sisters in South Blanco on the 3rd. Head to Stonewall on November 4 for AATW and Sophia Johnson
There are lots of daytime events on the tour. Sign up for the VIP package and get a special tour of the Alamo as it celebrates its 300th anniversary.
Find out everything you need to know at http://www.texasdancehalltour.com/