Paid downloads are down, streaming is up.
Nielsen Soundscan's annual mid-year report, issued each June, shows the first half of 2014 continued a definitive consumer migration from purchasing albums to streaming songs.
Nielsen reported in January the first-ever year-over-year decline of album and track downloads in 2013. The new era is characterized by rising consumer demand for accessing music (streaming) instead of purchasing and storing music (owning).
The access-vs-owning fulcrum is widely regarded as a hinge point that is disrupting the music industry, and Nielsen termed it "epochal" in the January report.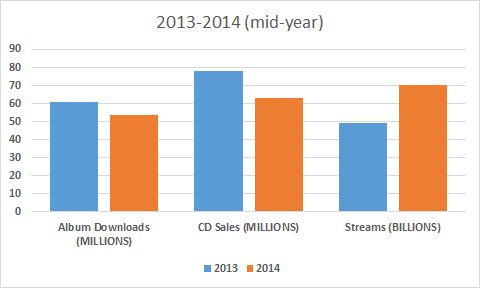 In the first half of 2014, CD sales continued a downward trend, off 20% when compared to the first half of 2013. Album downloads dropped 12%. Digital singles lost 13%.
As of June 29th, 2014, 593.6 million digital songs have been sold in the US, down from 682.2 million at the same point in 2013.
Streaming, including both audio and music video, increased 42% year-over-year, to 70-billion accessed streams.
When audio on-demand streams are removed from total streams (which include video music streams) the year-over-year rise in consumption is even more dramatic: Audio streaming rose by slightly over 50% in the first half of 2014.
The main takeaway from Nielsen's mid-year report is that the trend toward streaming appears to be accelerating. In January, Nielsen's full-year report of 2013 indicated 32% growth in streaming compared to 2012. In 2014, the year-over-year pace is +42% rise in streaming at the year's midpoint.
Thanks to RAIN -- Radio and Internet Newsletter -- for the graphic.
More:
Lessons from Classic Rock's Longevity
How to Get Your Band Info Synched Everywhere at Once

Music is more than pieces of plastic
15 Truths About the Music Business
11 Secrets to Social Media Success
How to Hire Free Lance Musicians
What to Do About Changes to the Facebook Algorithm
Articles to help you navigate the music business.
4 Tips for Getting Fans to Your Shows with Social Media